iklunchmee.nl - The site to register lunch with colleagues
Idea #6
By Matthijs Zwinderman
Lunching with colleagues is nice. Money hassle is not nice. It's as simple as that and that's where 'iklunchmee.nl' comes in ("I'm joining for lunch".nl)
Of course, there are more reasons to use iklunchmee. The Dutch tax-office is extremely interested in company-lunches. They think your employer is handing out free lunches as a replacement for an increase in wage. That's why they want employees who don't bring their own food to register who lunched and who paid.
How does iklunchmee.nl work?
Every employee gets a login and registers their 'standard lunchdays'. They can plan holidays (when they don't lunch at the office, hopefully 🤓), or extra lunchdays.
They then put money in an offline pot and register that at iklunchmee.nl (of course in the future, we'll use iDEAL and you don't need cash anymore 😇).
What will iklunchmee.nl look like?
There's no visual style yet, but I've made some example screens how I expect this to work. It should be as simple as possible, because registering lunches is not exactly rocket science. I look forward to hear any suggestions you may have!
The screens are in Dutch, but I think they are pretty self-explanatory.
Home: lunchdays
Shows all the days you ate lunch with your colleagues and the days you plan to eat lunch. You can simply toggle them by clicking on it.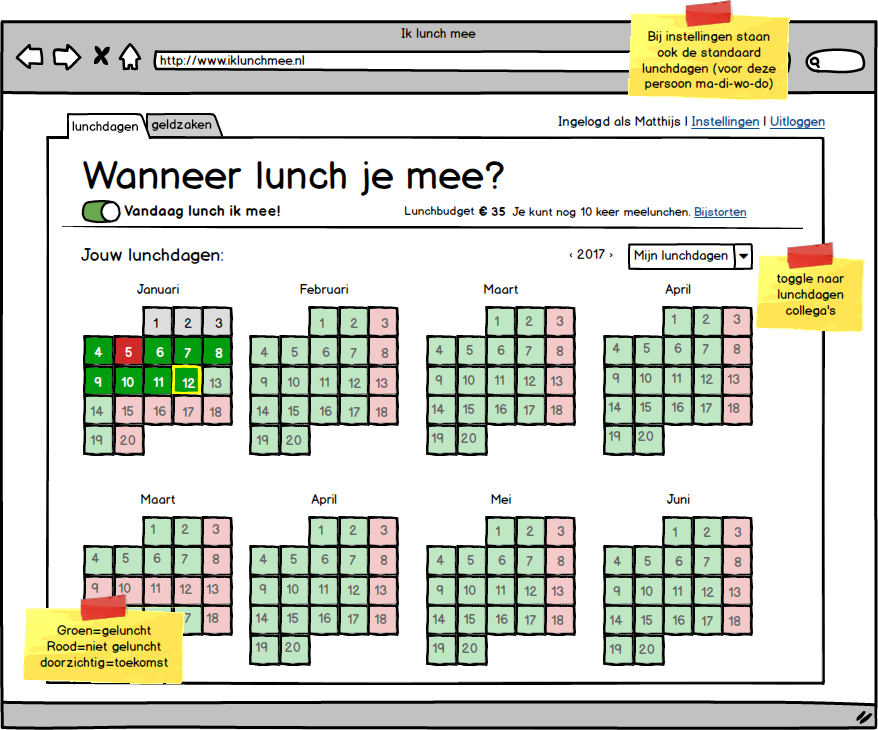 "Geldzaken" -> "Money-stuff"
Shows all transactions made to the 'pot'. Here you can also add new transactions, like shopping you did or money you added to the pot.
Features
set 'lunch-defaults' ("I never lunch on a Thursday")
set your holidays in advance
see your colleagues' lunchdays
register shopping done for lunches
use 'shopping-money' towards your personal lunch-budget
see who owes money to the pot and how much 😱
Unsolved problems
lunch with 'externals'
payment through the site
I registered the domain-name and I'm learning Ruby-on-Rails, but it's going SLOOOOOOOW. So if you are looking for a fun side-project, and think this has some potential, tap me on the shoulder
---
---
---